Bike Smarter
Get personalized expert advice on how best to ride the bike around your city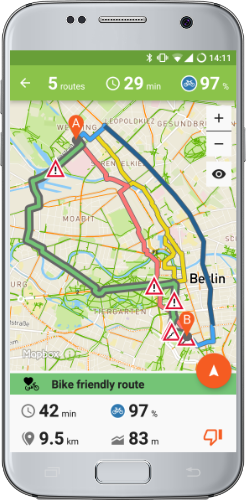 Explore your city with the comprehensive urban cycling maps.
Search for the best cycling routes based on a range of criteria, including safety, comfort and speed.
Be guided to your destination by a turn-by-turn navigation optimized for urban use.
Get real-time weather and pollution updates*.
Don't have a bike? No problem - plan your trip with a shared bike.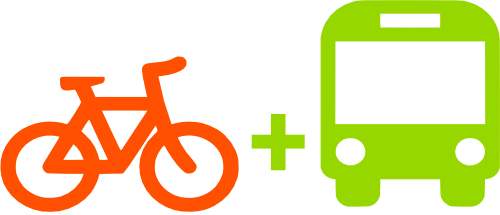 Go Intermodal
: Combine bike with train, metro or bus to extend your range or dodge unfriendly parts of the city.

Go Electric
: Find the best electric bike routes with a dedicated
e-bike routing
profiles.
Bike More
Be motivated by a unique system of rewards. Make cycling your habit
Track your rides to get insights into where and how you cycle.
Unlock Explorer, Commuter, Night Rider and a number of other unique urban cycling badges.
Connect with competition Do práce na kole 2017 and upload your rides with one click.
Participate in global and local urban cycling competitions.
Bike United
Unleash the power of the urban cycling community
Motivate and be motivated by sharing your cycling achievements with the UrbanCyclers community.
Inform fellow riders about cycling issues and hazards on routes you know.
Record your rides to make the app smarter and facilitate your city's transport planning.
Leverage the power of the cycling community to get the authorities to do more for cyclists.
Cities use your data to improve infrastructure!
Nice app, routes in Prague are pretty accurate. Also, not draining battery much.
Useful for bikers Route selection works well, rerouting also. Essential for bikers
Great application - helped me to find an interesting yet easy route I didn't know before!
Coverage
UrbanCyclers are now available in 7 areas across the world
Afraid of mounting your phone ? Don't be!
Mounting your phone to the handlebars is easier than you think. The handlebars also protect your phone. After majority of the bike accidents, the bike falls to a side. Follow UrbanCyclers! We give out the rubber holders to our users often for free.